[ad_1]


By Yakubu Uba/Maiduguri
A total of 3,900 Boko Haram terrorists have surrendered in recent days, Governor Babagana Zulum made this known Sunday.
He said 3,000 insurgents surrendered to Nigerian authorities, while, 900 surrendered to Cameroon.
Zulum made the disclosure on Sunday at a meeting with stakeholders including security agencies to deliberate on the development, 12 years after the Boko Haram insurgency began.
Zulum told the meeting that a team, comprising security agencies and other relevant organisations, had been constituted to profile the surrendered insurgents in line with international best practice.
He said over 200 farmers with their families held hostage by the insurgents were among those that surrendered.
"They (insurgents) forced such farmers to farm while they buy the produce from them at subsidised rate.
"There are also under aged children and others conscripted by the insurgents," Zulum explained.
Zulum said the forum should reach a common ground on how to handle the situation for lasting peace in the state.
At the meeting were the Theatre Commander of "Operation Hadin Kai", Maj.-Gen. Christopher Musa, National Assembly members from Borno, Sen. Ali Ndume and Rep. Tahir Monguno.
A victim of the insurgents, Alhaji Modu Gujja, who lost his parents, wife and children and relations still missing attended, saying he has left vengeance to God, and would support any process that would bring lasting peace to Borno.
The Shehu of Borno, Alhaji Abubakar Umar-Garbai, representatives of Muslims, Christian Association of Nigeria (CAN), organised labour, NBA, NUJ, CSOs and Women groups, were all at the meeting.
According to the communique issued, the meeting supported the idea of re-integrating the terrorists back into the society.
It also asked the North East Development Commission to be involved in all aspects of rehabilitation and reintegration of surrendered Boko Haram into the mainstream society.
Read the communique: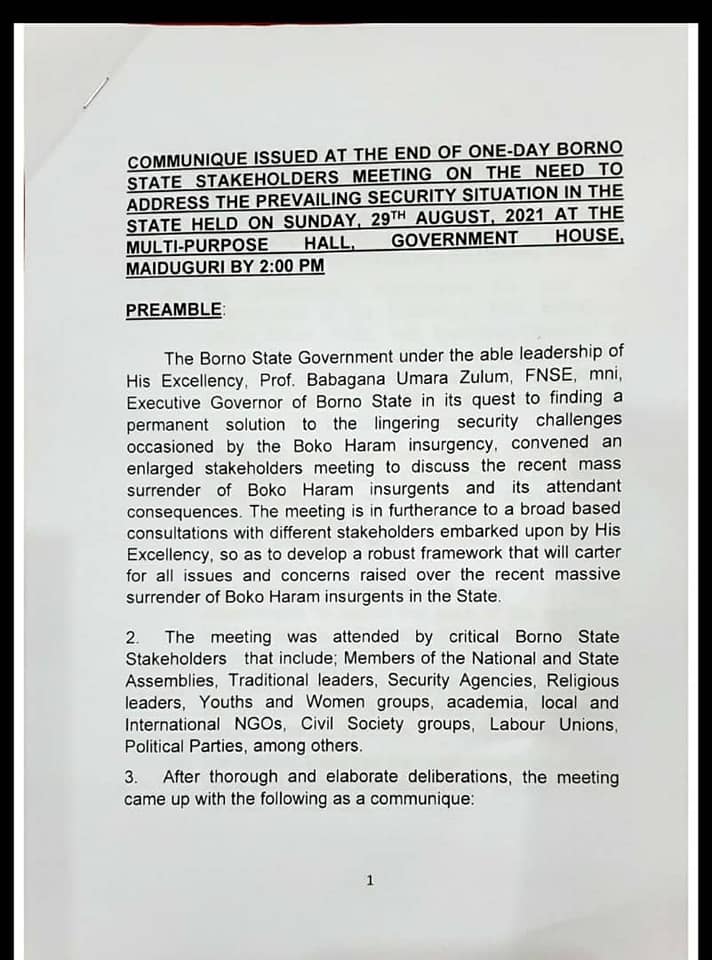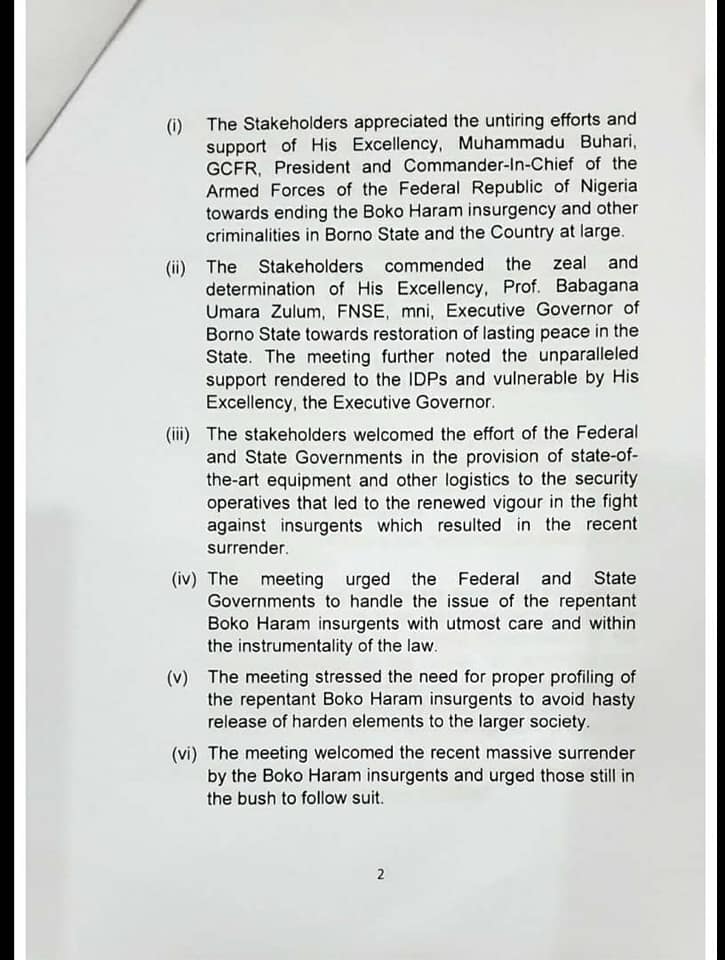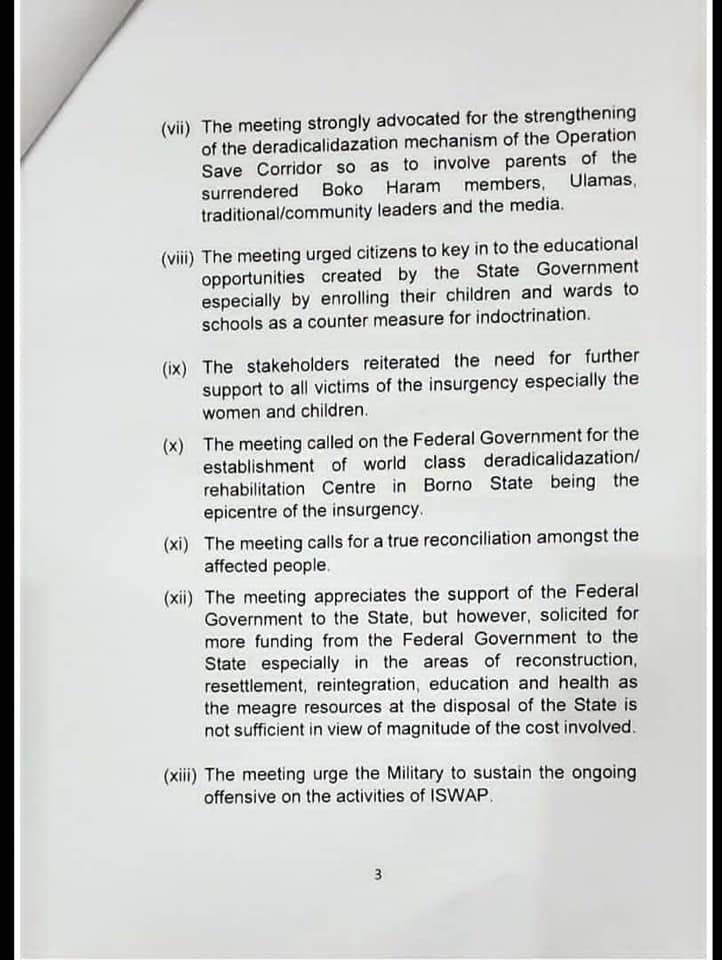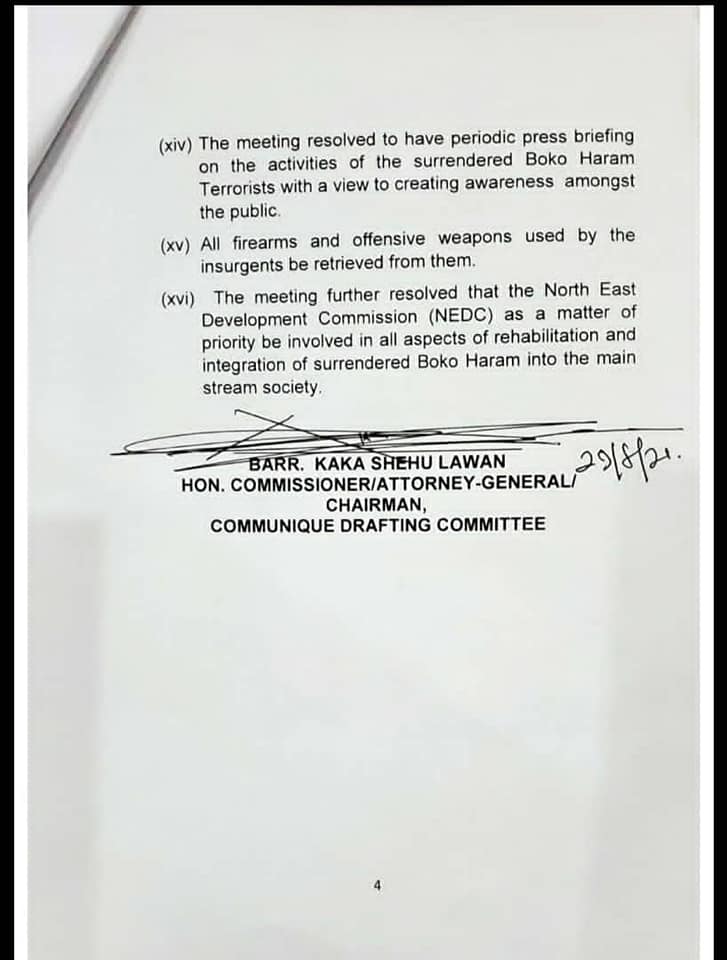 [ad_2]